In Books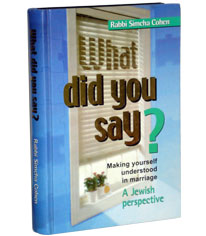 "What Did You Say?"
Author
Rabbi Simcha Cohen
From the book cover:
An original approach to marital and other personal relationships.

A "must read" for dating and engaged couples, a wellspring of unique solutions for already-marrieds, and and invaluable asset to social relationships, the Hebrew volume sold over 25,00 copies

Taken from the Introduction:

Domestic harmony not only refers to creating harmony in a family at odds, but also to enhancing togetherness and companionship where they already exist. When families live in harmony, the Divine Presence abounds.
()